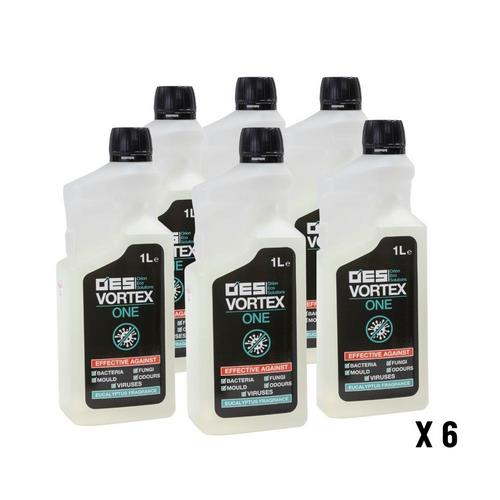 Circular economy
Vortex Disinfectant cleaner & sanitiser dosed concentrate 6x1lt
Case Quantity:

6 x 1 litre
Vortex one is the ultimate environmentally friendly multi-purpose super concentrate cleaning product. Not only does it clean multiple surfaces from soft to hard but it sanitisers as well, killing bacteria and viruses, removing odours and leaving a fresh and clean eucalyptus scent. You can replce mulitple cleaning items with this easy to use super concentrate cleaner sanitiser that can make up to 100 x 750ml spray bottles.
This case of 6 offers the ultimate value and delivers maximum cost in use.
Used with our 100% recycleable spray bottle which is made in the UK from 100% recycled milk bottles you can remove Single use plastic from your cleaning process, removing the need for landfill. Once you have finished your dosing bottle just return it free of charge to us, pop it in a bag and write FREEPOST ORION ECO SOLUTIONS on the front and post, it couldn't be simpler and kinder to the environment.
One Single product solves multiple cleaning problems
Hard floors
Carpet & soft furnishings
Desks & furniture
Glass, mirrors & stainless steel
Washroom surfaces, toilets & floors
Non-food preparation catering areas
Sanitising to remove viruses and bacteria at 50:1 and 100:1
Removal of odours from all surfaces
Vortex one offers as many benefits as it does applications, replacing multiple chemicals with one safe eco friendly CLP free option makes a world of sense.
Reduced training by replacing multiple products with Vortex One.
Improved one pass cleaning, maximises performance, minimises time.
Reduced COSHH and safer working with less risk.
No CLP once diluted, so as good for the environment as it is for the user.
Non hazardous, biodegradable & neutral pH formulation with low aquatic toxicity.
Built in dosing control delivers the perfect dilution every time.
Cleans, sanitises and removes odours in one pass
Super concentrates reduce transport and carbon emissions, one bottle <100 Sprays.
Fully recycled & recyclable spray bottle made in the UK from milk bottles.
Corporate refillable Aluminium spray bottle available for high profile cleaning.
Reduces Single use plastics with returnable dosing bottle and re-usable spray bottles.
Independently tested by fully accredited laboratories to EN standards.
Effective against Coronavirus at 1:50 dilution.
Good
Our Good standard products represents a high level of sustainability.
Carbon saving per product: 345.65 Kg
Highly effective daily use sanitiser & cleaner
99.99% effective against Corona virus in 30 seconds & an impressive log 8 kill (99.999999%) against Norovirus
Space saving soluble tab system
Simple and easy to use
CLP free one mixed for safer use
Chlorine and Taint free for use i all areas including food preparation
QAC based disinfectant formula
CLP Free
Non Hazadous & kind to aquatic life
Tested to EN 1276, EN 14476, EN 1650, EN 1275 & EN 13704
Diluiton 1:100 (10ml) for EN 1276, EN 1650, EN 1275 & EN 13704
Dilution 1:50 (20ml) for EN 14476
Manufacturing & Sourcing
Living Wage Supplier
Renewable Power in Manufacturing Process
Region of Manufacture
Main Raw Material Country of Origin
Product Composition & Materials
Product Composition - Natural / Plant Derived
Single Use Plastic Level
Eco Cost In Use
Environmental Impact
Aquatic Toxicity
Human risk in use (CLP)
VOCs (Volatile Organic Compounds)
Carbon Saving CO2 per KG
Sustainable Certification
ISO 14001