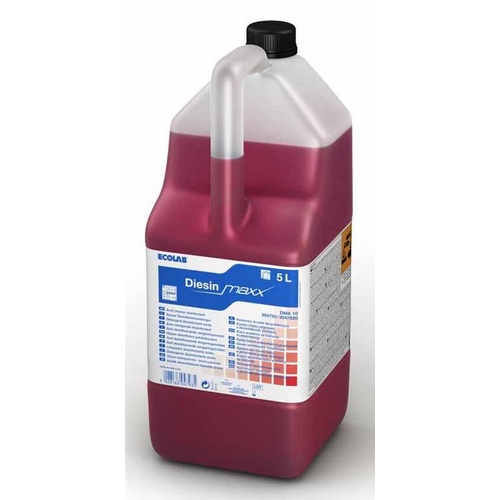 Ecolab Maxx Diesin Disinfectant & washroom cleaner (2x5lt) 3047920
Case Quantity:

2 x 5 litre
Ecolab Diesin Maxx Acidic Disinfectant & washroom cleaner 3047920
Diesin Maxx is a powerful acidic disinfectant cleaner for daily and heavy duty cleaning tasks. It effectively removes lime scale and dirt and possesses excellent antimicrobial properties. Diesin Maxx disinfectant leaves areas with a pleasant fragrance and can be used on all water and acid resistant surfaces. Main areas of use are in washrooms schools, fitness centres, gym clubs, nursing homes, and wherever there is a need for disinfecting and the removal of limescale.
Carbon saving per product: 0.4 Kg
Remove drops or splashes immediately and rinse thoroughly
Test material compatability in a small inconspicuous area before use
For professional use only
Do not Mix with other products
For further information and safety instructions, see product label and safety data sheet.
Manufacturing & Sourcing
Region of Manufacture
Product Composition & Materials
Eco Cost In Use