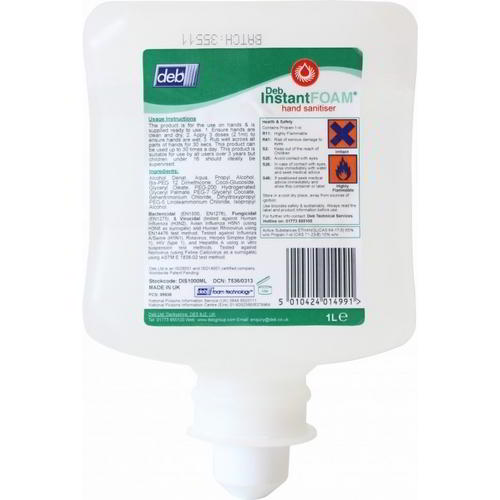 Made in the UK
Deb Instant FOAM sanitiser Complete 6 x 1lt DIS1000ML
Case Quantity:

6 x 1 litre
Deb Instant FOAM Complete 6 x 1lt DIS1000ML is a highly effective viricidal alcohol based hand sanitiser dispensed as a foam. Ideal for use in all general healthcare and food handling environments where high levels of hand hygiene are vital. Also,suitable for use in cafeterias, office areas,rest areas and any public facility to help prevent the spread of germs. For use in high-­‐risk healthcare and food handling environments use Deb InstantFOAM Optidose TM.
Good
Our Good standard products represents a high level of sustainability.
Method of Use: Ensure hands are clean and dry before use.For general hygienic use: apply 1-­‐2 doses and rub well across all parts of hands until dry. For general hand disinfection standard: apply 2-­‐3 doses and rub across all parts of hands until dry.For hygienic hand disinfection according to EN1500 standard: apply 2 doses (1.5ml) and rub well across all parts of hands for 30 seconds. (*excludes 47ml – see label for details)
Bactericidal, Virucidal, Yeasticidal, Mycobactericidal
Rapidly and easily rubs across hands, killing 99.999% of many common germs in just 30 seconds.
Provides the user with complete control of the product in the hands, preventing the dripping and splashing associated with using liquid alcohol sanitisers.
Unlike alcohol gel sanitisers, the product does not contain gelling agents that leave the hands feeling sticky, particularly after multiple use
The rich foam is extremely pleasant for frequent use in-­‐between hand washing, encouraging maximum compliance.
Helps prevent skin dryness and leaves the skin feeling soft and refreshed after use.
The perfume-­‐free and dye-­‐free formula has extremely low potential for skin irritation. Ideal for frequent use with very high user acceptability.
Suitable for use in any environment where food is being handled.
Does not clog pumps or splash and drip on surrounding floor and wall surfaces as associated with liquid and gel sanitisers.
Quickly dries on hands without the need for rinsing with water. Ideal for use outside the washroom at the point of need.
Available in a range of sizes for use in different working and public environments.
Can be applied to hands prior to wearing latex and nitrile gloves.
Supplier Code DIS1000ML.
Avoid contact with eyes. In case of contact with eyes, rinse immediately with plenty of water (for at least 10 minutes) and seek medical advice.
This product has a shelf life of 36 months
This product meets the current national regulations for Biocidal products.
6 x 1 litre cartridges per case.
Manufacturing & Sourcing
Living Wage Supplier
Renewable Power in Manufacturing Process
Region of Manufacture
Main Raw Material Country of Origin
Product Composition & Materials
Product Composition - Natural / Plant Derived
Single Use Plastic Level
Eco Cost In Use
Environmental Impact
Aquatic Toxicity
Human risk in use (CLP)
Carbon Saving CO2 per KG
Sustainable Certification
ISO 14001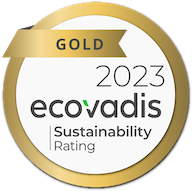 Ecovadis Gold