Ecolab Regain kitchen floor, wall & surface cleaner (4 x 5lt) 900725
Case Quantity:

4 x 5 litre
A high quality Ecolab chemcial for the cleaning of all surfaces wihtin a kitchen environment.
Check hygiene plan and product label for
detailed use information.
Wipe up spills and sweep floor.
Wear suitable protective clothing when
handling the product.
Prepare the cleaning solution in a
bucket. Use 50-100 ml of Regain for 5 L
water depending on the level of soiling.
Increase concentration for stubborn
or persistent dirt. For periodical deep
cleaning, increase concentration up to
25%. Utilize Ecolab dispenser.
Apply Regain floor cleaner with a
rasanTEC mop.
Brush floor with a stiff-bristled brush,
mop or machine.
Rinse with clear water afterwards.
Squeegee excess liquid towards drain.
Health and Safety Information
Do not Mix with other products
For further information and safety instructions, see product label and safety data sheet prior to use.
Manufacturing & Sourcing
Region of Manufacture
Product Composition & Materials
Packaging
Partial Recycled & Recyclable
Sustainable Certification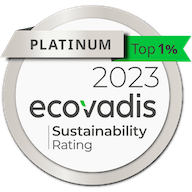 Ecovadis Platinum