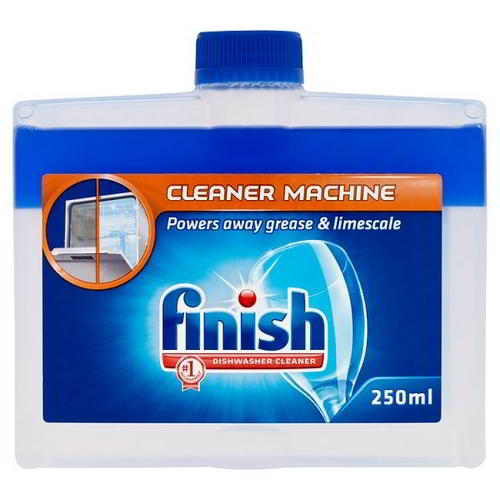 Finish Dishwasher machine cleaner 250ml
Dual action fluid eliminates grease and limescale. Easy to use – just place in your empty machine and run a full cycle. Finish Dishwasher Cleaner is the cleaning solution for dirty dishwashers.
The dual action liquid eliminates grease and limescale to keep your dishwasher running smoothly and smelling fresh. Use monthly for consistently flawless results. It's often not easy to tell how clean your dishwasher really is; grease and limescale build up in hard-to-see parts of your machine like the filter, spray-arms, pipes and drains. Over time, this can cause your machine to run below its best and, at worst, break down altogether.
Finish dishwasher cleaner actively cleans all the hidden parts of your dishwasher with its dual action fluid – the yellow layer targets stubborn grease and the transparent layer attacks limescale, keeping your dishwasher sparkling clean. With this Lemon Sparkle variety, the clean citrus fragrance also leaves your machine smelling as sparkling as it looks.
Manufacturing & Sourcing
Region of Manufacture
Product Composition & Materials