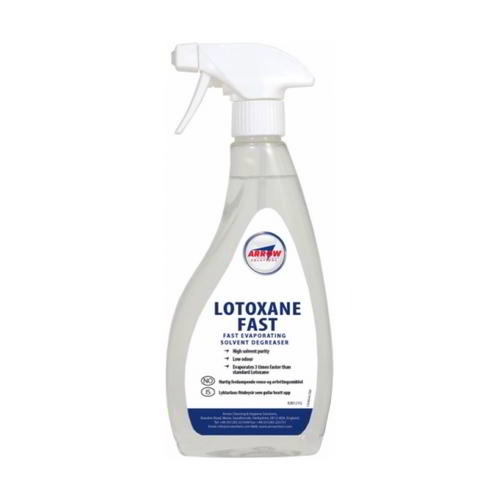 Made in the UK
Lotoxane Fast non-residue cleaner 12x500ml
Case Quantity:

12 x 500ml
LOTOXANE FAST is a highly refined solvent blend offering a combination of low odour excellent degreasing power and minimal residue on drying. Due to its high purity Lotoxane Fast provides a safer alternative to the most hazardous solvents used throughout Industry, Lotoxane Fast therefore provides one solution for use on the most sensitive metals and plastics and in critical applications as well as for general oil and grease removal. Lotoxane® Fast evaporates three times faster than standard Lotoxane but shares its other properties of low odour, safety on surfaces and minimal residue on drying.
Good
Our Good standard products represents a high level of sustainability.
Carbon saving per product: 2.03 Kg
Highly refined for minimal residue on drying.
Low odour and controlled evaporation reduce exposure in the workplace.
Contains no aromatic hydrocarbons.
Excellent compatibility with metals and most plastics.
Flash point 40°C, Lotoxane Fast will evaporate and dry three times faster than standard Lotoxane.
Tested and approved by aerospace and other critical manufacturers.
Superb degreasing performance.
Provides a versatile degreasing solution to meet all manufacturing, maintenance, inspection and surface preparation needs.
Can reduce solvent consumption, reducing cost in use and aiding compliance with VOC limits.
APPEARANCE : Liquid
COLOUR : Colourless
ODOUR : Mild
SOLUBILITY : Insoluble in water
BOILING POINT (°C) : 160
RELATIVE DENSITY : 0.75 @ 15 °c
FLASH POINT (°C) : 40 P/M Pensky-Martens
FLAMMABILITY LIMITS:
LOWER (%) : 0.60
UPPER (%) : 6.50
APPROVALS
Nuclear Electric, Rolls-Royce, Dubai Dry Dock Company, MoD NATO Stock No: 6850-99-215-6088, Coal Industry Assessment No: 7423, Scientifics
Approved, GE Aircraft Services, Pratt & Whitney International Aero Engines.
Keep away from heat, sparks and open flame
Provide good ventilation
Avoid contact with eyes
Manufacturing & Sourcing
Living Wage Supplier
Renewable Power in Manufacturing Process
Region of Manufacture
Main Raw Material Country of Origin
Product Composition & Materials
Product Composition - Natural / Plant Derived
Single Use Plastic Level
Eco Cost In Use
Environmental Impact
Aquatic Toxicity
Human risk in use (CLP)
VOCs (Volatile Organic Compounds)
Carbon Saving CO2 per KG
Sustainable Certification
ISO 14001