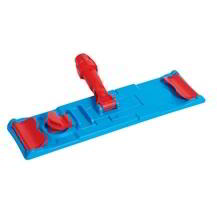 Microspeedy Mop Holder for 40cm Flat mop system
A 40 cm plastic break frame for the Microspeedy flat mopping system be used with 45cm Flat Mop with Ears code 203323 and Bucket Compression Wringer code 203322
Good
Our Good standard products represents a high level of sustainability.
The Microspeedy flat mop break system is designed to fit the Microspeedy & Pro Mist Microfibre flat mops.
Lay mop on floor, place holder on top, secure the two ears by the clips on top of the frame.
There is a push down foot operated break system on top, this folds the frame up allowing the mop to dangle down and be rinsed in the bucket and wrung out.
Microspeedy system
40cm frame size
68g in weight
Plastic build
Manufacturing & Sourcing
Living Wage Supplier
Renewable Power in Manufacturing Process
Region of Manufacture
Main Raw Material Country of Origin
Product Composition & Materials
Eco Cost In Use
Sustainable Certification
ISO 14001