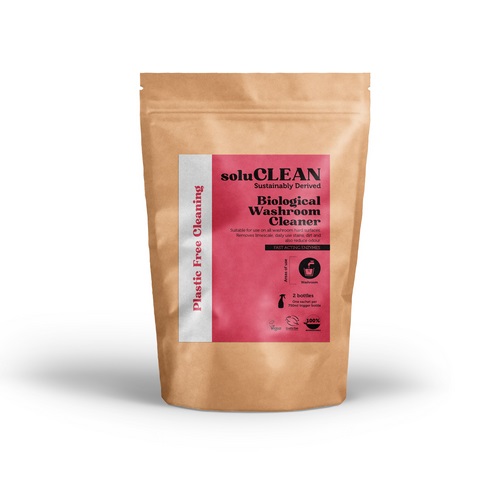 Zero single use plastic
SoluClean Biological Washroom Cleaner (10 sachets)
Case Quantity:

10 sachets
The soluCLEAN Biological Washroom Cleaner has multiple enzymes to target and break down organic matter such as fats and proteins.
It is suitable for use on all washroom surfaces, including porcelain, stainless steel and all washable surfaces and eliminates soap scrum and body fats.
Violet and jasmin fragranced, the Biological Washroom Cleaner is odour neutralising.
Soluclean sachets are the perfect plastic free cleaning solution. Some of the key sustainable benefits against traditional cleaning products are:-
– Made in the UK
– Plastic free
– Dose controlled
– Made from 90%+ natural ingredients
– Free from Palm oil, VOC's. Phosphates & EDTA
– Vegan society certified
– Cruelty free initernational certifeid
– 99% lighter
– 70% less packaging
– 90% CO2 Savings
– Reduces storage by 96%
– Up to 60% monetary savings when compared to RTU products.
The sachets are made of PVOH (polyvinyl alcohol) these disolve in water and are eco friendly, odourless, non-toxic and biodegradable and micro organisms in the water system break them down creating natural H2O and CO2. They are packaged in a fully composbale sacks, meaning that there is zero plastic in the packaging.
Excellent
Our Excellent standard products represent the pinnacle of sustainability excellence.
Carbon saving per product: 3.93 Kg
Made in the UK
Low Single Use Plastics
Natural / Plant Derived
Low Human risk in use (CLP)
Place one powder sachet in a 750ml trigger spray bottle
Add water to 750ml level and replace bottle top
Shake gently
The solution can be sprayed directly on to all washable surfaces
Wipe clean with a damp cloth
Do NOT handle sachet with wet hands
Do NOT mix the product with any other chemicals
Health and Safety Information
Irritating to eyes, respiratory system & skin (in a concentrated state)
Risk of serious damage to eyes
Do not leave unused sachet out of the container
Keep out of reach of children
Do not take internally
In case of contact with eyes, rinse immediately with plently of cold water & seek medical advice
Wear eye/ face protection
After contact with skin, wash immediately with plenty of water
Manufacturing & Sourcing
Living Wage Supplier
Renewable Power in Manufacturing Process
Region of Manufacture
Main Raw Material Country of Origin
Product Composition & Materials
Product Composition - Natural / Plant Derived
Single Use Plastic Level
Eco Cost In Use
Environmental Impact
Aquatic Toxicity
Human risk in use (CLP)
VOCs (Volatile Organic Compounds)
Carbon Saving CO2 per KG
Sustainable Certification
ISO 14001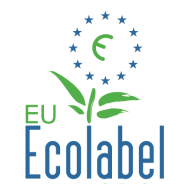 EU Eco Label