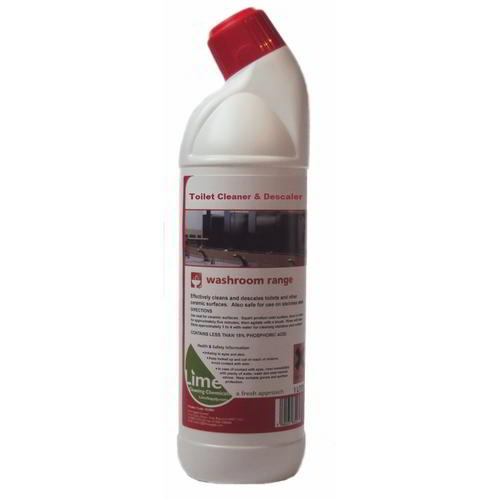 Minimum of 30% recycled plastic
Toilet cleaner & descaler 6x1lt
Case Quantity:

6 x 1 litre
A hydrochloric acid based cleaner that effectively cleans & descales toilets & other ceramic surfaces.
Fair
Our Fair standard products represents a decent level of sustainability.
Carbon saving per product: -0.02 Kg
Use Neat.
Squirt product onto surface.
Leave in contact for approximately five minutes.
Then agitate with water
Rinse with water
DO NOT USE ON STAINLESS STEEL
Health and Safety Information
CONTAINS LESS THAN 10% HYDROCHLORIC ACID
Irritating to eyes and skin.
Keep locked up and out of the reach of children.
Avoid contact with skin.
In case of contact with eyes wash and seek medical advise.
Wear suitable gloves and eye/face protection
Your Material Safety Data Sheet (MSDS) covers all the important information you need to know about the product you are using.
Manufacturing & Sourcing
Living Wage Supplier
Renewable Power in Manufacturing Process
Region of Manufacture
Main Raw Material Country of Origin
Product Composition & Materials
Product Composition - Natural / Plant Derived
Single Use Plastic Level
Eco Cost In Use
Environmental Impact
Aquatic Toxicity
Human risk in use (CLP)
VOCs (Volatile Organic Compounds)
Carbon Saving CO2 per KG
Sustainable Certification
ISO 14001