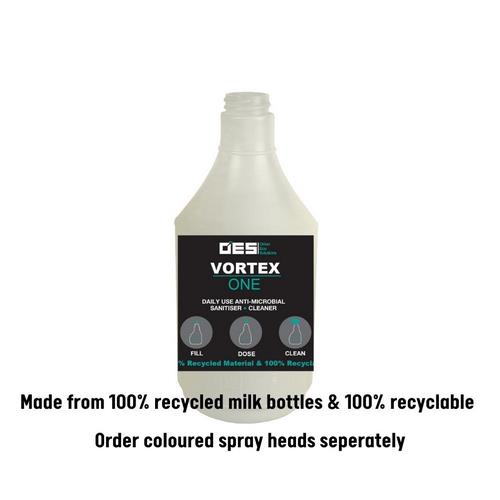 Circular economy
Vortex Re-usable Professional 100% Recycled spray bottle
Excellent
Our Excellent standard products represent the pinnacle of sustainability excellence.
Carbon saving per product: 0.4 Kg
Made in the UK
Main Raw Material originated in the UK
High Main Material Recycled Content
High Main Material Recyclability
Highly effective daily use sanitiser & cleaner
99.99% effective against Corona virus in 30 seconds & an impressive log 8 kill (99.999999%) against Norovirus
Space saving soluble tab system
Simple and easy to use
CLP free one mixed for safer use
Chlorine and Taint free for use i all areas including food preparation
Tested against a wide spectrum of microbial strains including Coronavirus, H1N1, Campylobacter, Enterococcus, Pneumonia, Salmonella, Staphylococcus, Legionella, Listeria, Candida & Aspergillus
Independently tested by Commercial Microbiology, Aberdeen, Scientific Services, Lincolnshire, Rowett Institute, Aberdeen & Blu Test Laboratories, Glasgow
Tested to EN1276, EN14476, EN13727 and EN1650
Residuality testing was carried out by Scientific Services, Lincolnshire, in order to successfully show residual efficacy it had to prove that the product was still effective on the surface against any of the above bacterial or viral strains after a given period of time. This was carried out against E.Coli and Listeria monocytogenes, and it was confirmed that the product remained effective after 28 days.
Manufacturing & Sourcing
Living Wage Supplier
Region of Manufacture
Main Raw Material Country of Origin
Product Composition & Materials
Main Material Recycled Content
Eco Cost In Use
Sustainable Certification
ISO 14001