Ecolab Greasecutter plus (4 x 5lt) 904269
Case Quantity:

4 x 5 litre
A high quality Ecolab heavy duty liquid cleaner degreaser for the cleaning of ovens and grills.
Spray Greasecutter Plus onto the
surface to be cleaned.
Allow Greasecutter Plus to
penetrate grease deposits for
15 minutes, depending on the
thickness of the deposit.
Wipe off dissolved and loosened
grease with a damp cloth.
Rinse surface with clear water
Health and Safety Information
Do not Mix with other products
For further information and safety instructions, see product label and safety data sheet prior to use.
Manufacturing & Sourcing
Region of Manufacture
Product Composition & Materials
Packaging
Partial Recycled & Recyclable
Sustainable Certification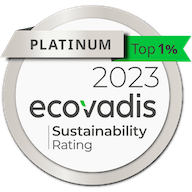 Ecovadis Platinum