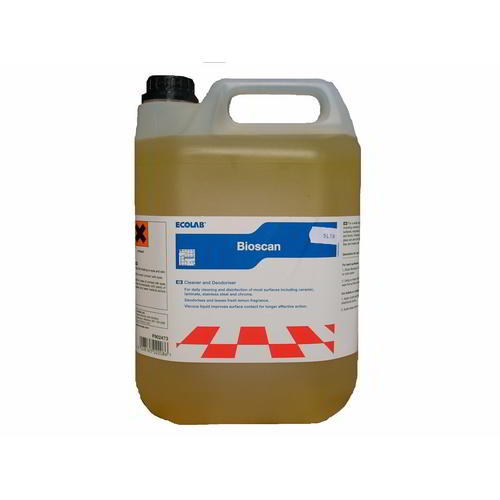 Ecolab Multi EL10 HD Degreaser for floors & surfaces (2 x 5lt) 9073670
Case Quantity:

2 x 5 litre
A high quality degreaser and cleaner.
Excellent
Our Excellent standard products represent the pinnacle of sustainability excellence.
Carbon saving per product: 0.4 Kg
Check the hygiene plan & product label for detailed use information.
Where suitable protective clothing when handling the product.
Pre-scrape surfaces to remove loose soils.
Dilution surfaces / floors – 0.25% to 0.5% or 25ml – 50ml per 10lt
Dilution surfaces / floors fish dept. – 0.75% to 1% or 75ml – 100ml per 10lt
Dilution surfaces / floors meat dept. – 1.5% to 2% or 150ml – 200ml per 10lt
Wipe surfaces with a clean cloth, for floors apply by spray or mop.
Rinse all food contact surfaces with clean water.
Squeegee excess liquids towards drains.
For professional use only.
Green liquid with a slight pine perfume.
pH 9,5 to 11 (100%)
Density: 1.02 – 1.06 (20'C)
Surfacants for food contact surfaces (FR: decree 98-507, dated June 17, 1998)
Storage – Store between -5'c – 40'c, in original closed container only.
Manufacturing & Sourcing
Living Wage Supplier
Region of Manufacture
Main Raw Material Country of Origin
Product Composition & Materials
Product Composition - Natural / Plant Derived
Single Use Plastic Level
Eco Cost In Use
Environmental Impact
Aquatic Toxicity
Human risk in use (CLP)
VOCs (Volatile Organic Compounds)
Carbon Saving CO2 per KG