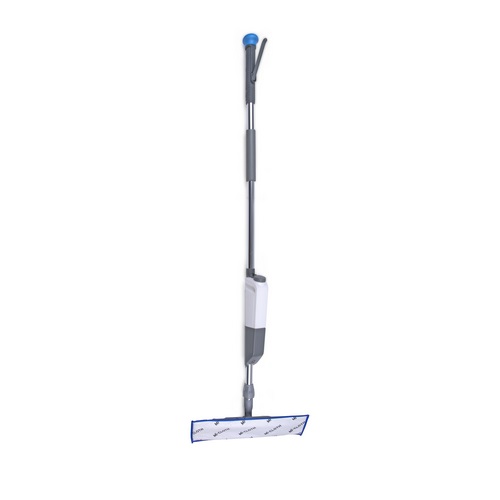 Pro-Mist Microfibre Disposable Mop Kit 104280
The Innovative microfibre flat mop system combines the new Pro- Mist spray handle and microfibre pads for effective, rapid response floor cleaning without the need for buckets or constant wringing out.
The Pro-Mist features a removable bottle and trigger, which delivers a fine mist of solution directly to the cleaning surface, helping you to clean and dry floors quickly. The mop's break-frame also has a built-in releas system to avoid user contact with the soiled mop.
This Microfibre Disposable Mop kit with a disposable Mi-mop is ideal in hygiene-critical areas such as restuarants where there is no access to laundry facilities.
Fair
Our Fair standard products represents a decent level of sustainability.
Remove the Pro-mist bottle and fill with water and/or cleaning agent, then reattach.
Squeeze the trigger to spray a fine mist onto the surface to be cleaned.
Mop in a figure of eight motion while holding onto the ergonomically rotating cap at the top of the handle.
New mop heads can easily be attached to the frame by releasing the break-frame, inserting either end into the pockets and push to lock in place.
Pro-Mist disposable system complete,
Includes handle with spray tank, frame and a pack of 10 disposable flat mops
1.7kg weight
44cm x 14cm x 138cm
Manufacturing & Sourcing
Living Wage Supplier
Renewable Power in Manufacturing Process
Region of Manufacture
Main Raw Material Country of Origin
Product Composition & Materials
Eco Cost In Use
Sustainable Certification
ISO 14001