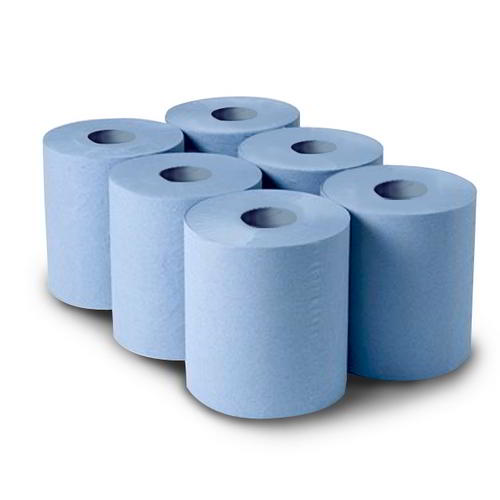 100% Recycled
Professional Centrefeed Blue 2 Ply 6 rolls
This versatile blue 144m recycled centrefeed roll offers excellent quality and value for the catering and industrial sectors. The 2 ply design gives high levels of absorbency. The centrefeed roll fits neatly into our centrefeed dispenser code 202007 making for accessibility and ease of use. it is made from 100% FSC recycled paper so both effective and kind to the environment. Made in the UK the manufacturer uses a high level of renewable energy that helps offset the higher energy requirement needed for making recycled rolls. A highly sustainable choice.
Excellent
Our Excellent standard products represent the pinnacle of sustainability excellence.
Carbon saving per product: 1.66 Kg
For use in Centrefeed dispensers.
Made from FSC 100% recycled material.
Manufactured with a high level of renewable energy.
The perfect combination of value for money, sustainability & quality.
2 ply design
FSC recycled 100%
144m roll length
170mm roll width
60mm core size
6 rolls per case
84 cases per pallet
Manufacturing & Sourcing
Living Wage Supplier
Renewable Power in Manufacturing Process
Region of Manufacture
Main Raw Material Country of Origin
Product Composition & Materials
Main Material Sustainability
Recycled or Pure FSC PEFC
Single Use Plastic Level
Eco Cost In Use
Environmental Impact
Carbon Saving CO2 per KG