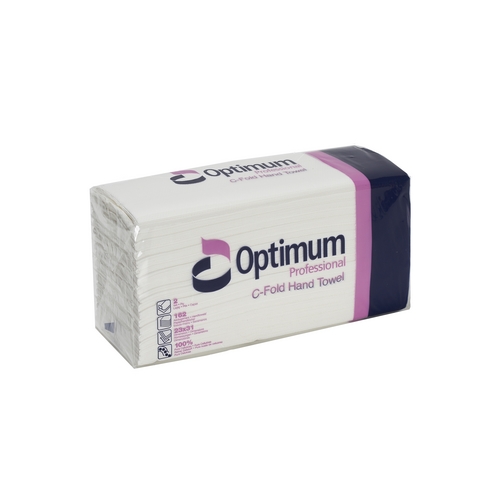 Zero single use plastic
Professional Embossed C-fold White 2ply hand towel (2295)
Case Quantity:

15 x 160 packs
A professional C Fold luxury pure pulp white hand 2 ply towel hand towel. This embossed hand towle is made to a high quality and has a luxurious feel and is extra absorbent, an ideal choice for all washroom environments.
The towels are packed 2400 per case. This really is a hand towel that you will find that suits all sorts of environments including offices, hotels schools and industry as well as many more locations, its 2 ply embossed design gives first class absorbency.
For ease of use the C fold 2ply is more commonly used in a wall mounted hand towel dispenser Code 202008. Unlike interfold or zig zag towels should if you not wish to dispense via a wall mounted unit the C Fold can be stacked by the side of the sink or on a side unit as when towels are taken the stack of towels will not fall over or become displaced.
The towel is also ideal to use in a kitchen environment primarily for hand drying but may also be used as a multipurpose cloth for clearing up spillages or wiping down kitchen units and table top surfaces leaving them clean and dry.
Fair
Our Fair standard products represents a decent level of sustainability.
Carbon saving per product: 1.32 Kg
Made in the UK
Low Single Use Plastics
High Main Material Recyclability
Recyclable Packaging
A professional Esfina branded pure pulp hand towel
Individually wrapped in 15 packs for hygiene
High quality absorbent embossed finish
Pure pulp for ultimate look and feel
Large size when unfolded
CHSA certified for peace of mind
Pure pulp
15 x 160 towel packs
2 ply embossed
Sheet size 230mm (w) x 310mm (l)
Towels per case 2400
Supplier code CFW002
Manufacturing & Sourcing
Living Wage Supplier
Renewable Power in Manufacturing Process
Region of Manufacture
Main Raw Material Country of Origin
Product Composition & Materials
Main Material Sustainability
Single Use Plastic Level
Eco Cost In Use
Environmental Impact
Carbon Saving CO2 per KG