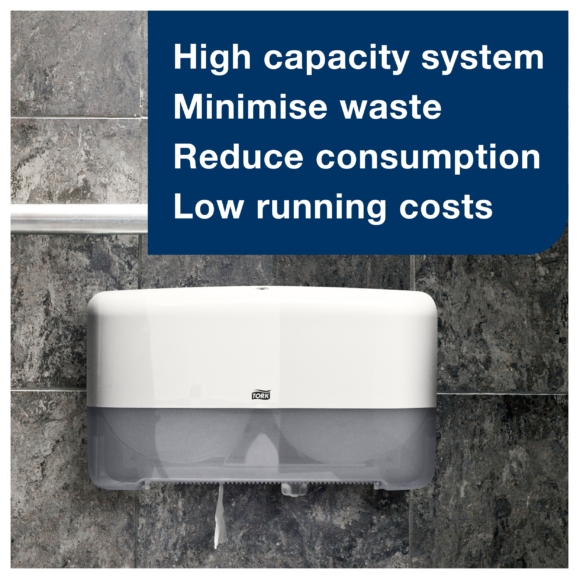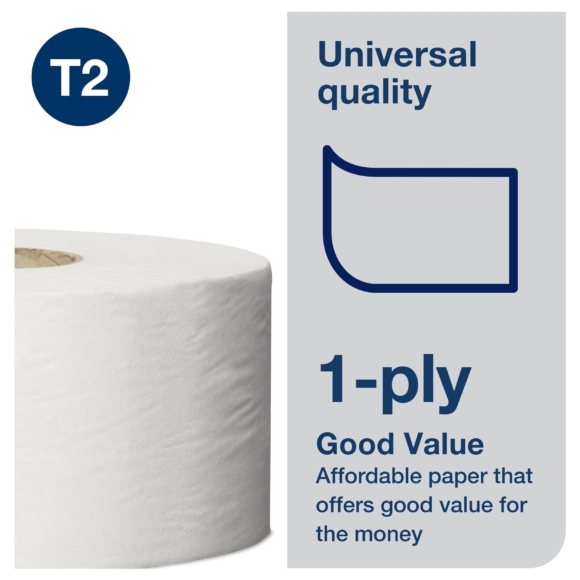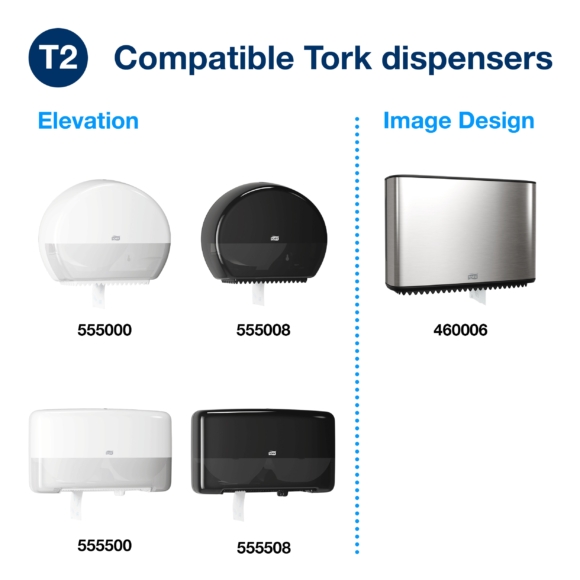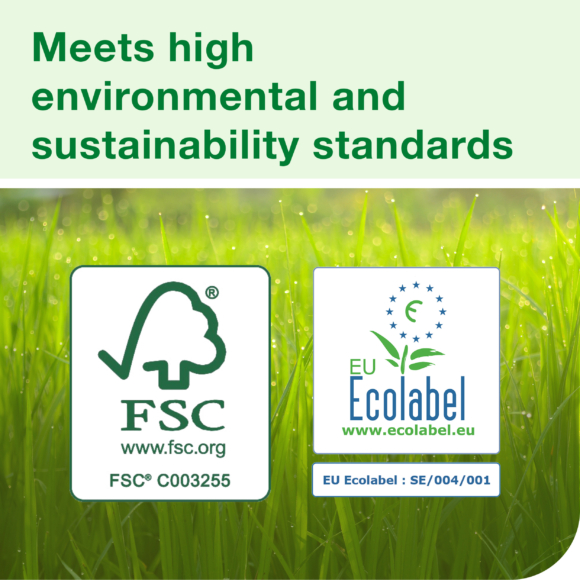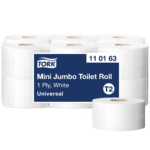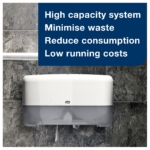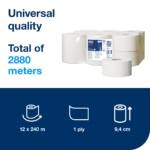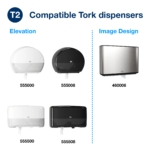 EU Eco Label
Tork Advanced Mini Jumbo Toilet Roll 1ply 240m (T2) 110163 Eco Label
Tork Mini Jumbo Toilet Paper Roll White T2
Tork mini jumbo Adv 1 ply roll 240m 110163 (12)) and fits the Tork Mini jumbo system (T2) is best suited for washrooms with medium to high capacity span. A 1 ply, 240m length roll with a 2.25″ core. This Tork 1 ply mini Jumbo is suitable for all applications in offices, schools, industry and care homes where there is medium demand that exceeds the use of a conventional toilet roll. It naturally also has the advantage that from a replacement aspect the refilling of dispensers can occur at far less frequent intervals than the conventional roll.
Balancing costs and efficiency is made easier with the Tork Mini Jumbo system. Thiseconomical and sustainable Tork Mini Jumbo Toilet Roll offers much more sheets than regular rolls, so staff can spend less time refilling and more time on other tasks. The risk of paper shortages is also reduced, making this bulk toilet paper ideal for medium to high-traffic areas. Use with the Tork T2 toilet roll dispenser – its closed design keeps the rolls hygienic and washrooms looking neat and tidy.
Designed to fit standard mini jumbo roll dispensers or the SCA T2 dispenser.
Good
Our Good standard products represents a high level of sustainability.
Carbon saving per product: 4.88 Kg
High Main Material Recycled Content
High Main Material Recyclability
High Useable Product Per Case Sold
Recyclable Packaging
High capacity span: less maintenance
Economical roll length
A quality tissue
Embossed for extra bulk
Printed with grey design that will enhance your washroom
Fits the Tork T2 dispenser
Great-value toilet tissue for high-traffic washrooms
High-capacity roll for fewer refills
Sustainable certifications
2 ply design
100% FSC recycled paper.
Sheet size 175mm x 400mm
Roll diameter 175mm
144 roll length
EAN Barcode 5060237831568
6 rolls per case
EU Eco label
T2 dispenser
Tork code 110163
Manufacturing & Sourcing
Living Wage Supplier
Renewable Power in Manufacturing Process
Region of Manufacture
Main Raw Material Country of Origin
Product Composition & Materials
Main Material Sustainability
Recycled or Pure FSC PEFC
Single Use Plastic Level
Eco Cost In Use
Environmental Impact
Carbon Saving CO2 per KG
Sustainable Certification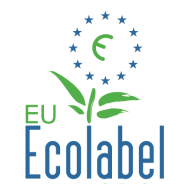 EU Eco Label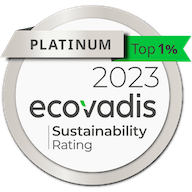 Ecovadis Platinum